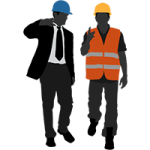 Smart City  Civil Engineering Project
Abstract:
A smart city is an urban development vision to integrate multiple information and communication technology solution in a secure fashion to manage city's assets- the city's assets include but not limited to local development information system, schools, library, transportation system, hospital, power plant, water supply network, waste management, law enforcement, and another community service.
Smart city applications are developed with the goal of improving the management of urban flows and allowing for real-time response to challenge. A smart city may, therefore, be more prepared to respond to challenges than one with a simple 'transitional' relation with its citizens.
The government if India, under the dynamic leadership of prime minister has a vision of developing 'one hundred smart cities', as satellite towns of larger cities and by modernizing the existing mid-sized cities.
India is at a point of transition where the pace of urbanization will speed up. With increasing urbanization, urban areas are expected to house 40% of India's population and contribute 75% of India's GDP by 2030.
This requires comprehensive development of physical, institutional, social and economic infrastructure. All are important in improving the quality of life that will attract people as well as investments to the city, setting in motion a virtuous cycle of growth and development of smart cities is a step in that direction.
FEATURE OF SMART CITY:
Health and education
Ensuring the safety of citizens, official women, and the elderly.
Sustainable environmental
Goods governance, especially e-governance and citizen participation.
Affordable housing, especially for poor
Efficient urban mobility and public infrastructure.
Sanitation including solid management.
Assured electricity supply- least 10% of the energy requirement coming from solar power.
Ad equalities water supply including wastewater recycling and stormwater reuse.
The new building makes energy efficient.
15% of the building will be in the affordable housing category.
Download Smart City Civil Engineering Project Report here.